Pantone LLC ผู้นำระดับโลกด้านสีและผู้ให้บริการมาตรฐานสีระดับมืออาชีพสำหรับอุตสาหกรรมการออกแบบได้ประกาศ Pantone® Fashion Color Trend Report ฤดูใบไม้ร่วง/ฤดูหนาว 2019/2020 ประจำรันเวย์นิวยอร์กแฟชั่นวีค โดย Pantone ได้การคาดการณ์แนวโน้มและเกี่ยวกับสีสำหรับอุตสาหกรรมแฟชั่นในฤดูกาลนี้มี 12 เฉดสีที่โดดเด่นที่สุด ซึ่งผู้เชี่ยวชาญของ Pantone บอกว่าสีในฤดูกาลนี้สะท้อนถึงความมั่นใจ ความกล้าและแข็งแกร่ง แสดงให้เห็นถึงความกระหายในการปลดปล่อยและความปรารถนาที่จะตระหนักถึงตัวตนที่เป็นเอกลัก
ษณ์เฉพาะตัวของเราเอง Leatrice Eiseman ผู้อำนวยการบริหารของ Pantone Color Institute กล่าวว่า" โทนสีสำหรับฤดูใบไม้ร่วง/ฤดูหนาว 2019/2020 มีความหมายตั้งแต่ง่ายและซับซ้อนไปจนถึงแตกต่างและโดดเด่น สร้างความรู้สึกของการมีอำนาจและความมั่นใจทำให้ผู้สวมใส่สามารถเลือกสีที่สะท้อนอารมณ์และบุคลิกของพวกเขาได้ดีที่สุด" ซึ่งโทนสีเหล่านี้เมื่อจับคู่กับเครื่องประดับจะเป็นอย่างไร? อ่านได้จากบทความนี้ค่ะ
About the Autumn/Winter 2019/2020 NYFW Color Palette:
Visceral hues coupled with seasonal core shades create a versatile palette inclusive of the following:
PANTONE 19-1557 - Chili Pepper
A spicy red, Chili Pepper adds drama and excitement as it stimulates the senses.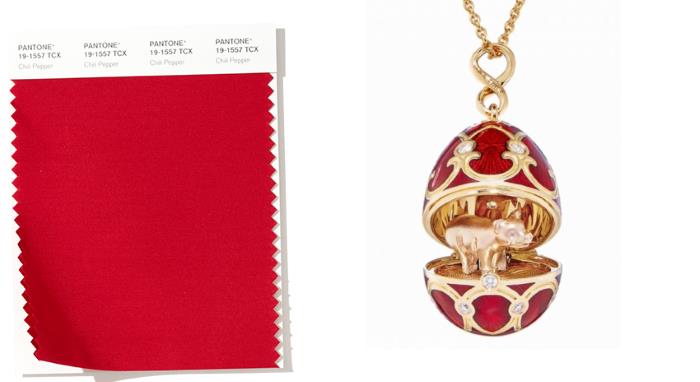 Pendant by Fabergé
PANTONE 19-1650 - Biking Red
An adventurous deep red, Biking Red is strong and powerful.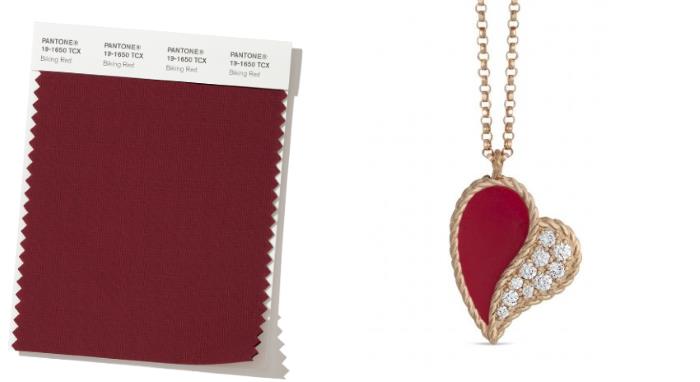 Pendant by Roberto Coin
PANTONE 12-1110 - Crème de Pêche
An embracing light peach, Crème de Pêche speaks of softness and ease.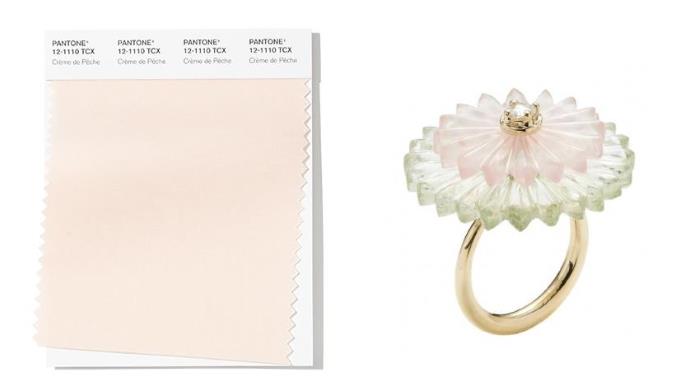 Ring by Alice Cicolini
PANTONE 15-1530 - Peach Pink
Warm and flattering, Peach Pink imparts a healthy glow.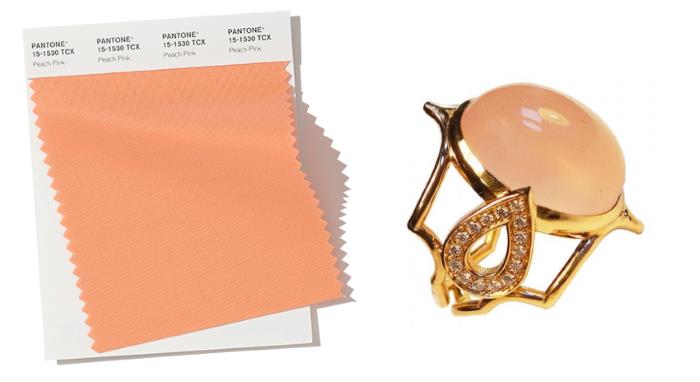 Ring by Tiber Joaillerie
PANTONE 19-1234 - Rocky Road
Rocky Road is an earthy and grounded solid brown.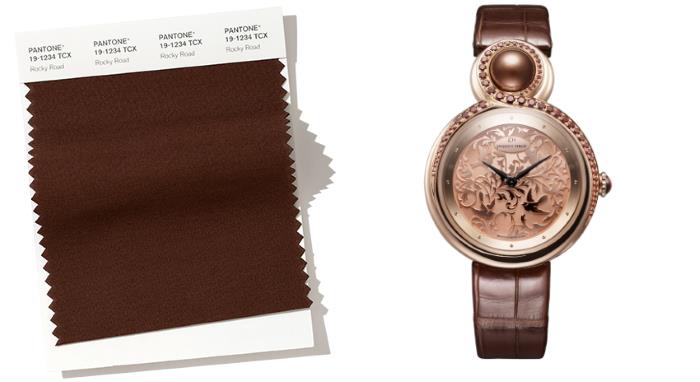 Watch by Jaquet Droz
PANTONE 17-1926 - Fruit Dove
An extroverted pink, Fruit Dove creates a presence that can't be ignored.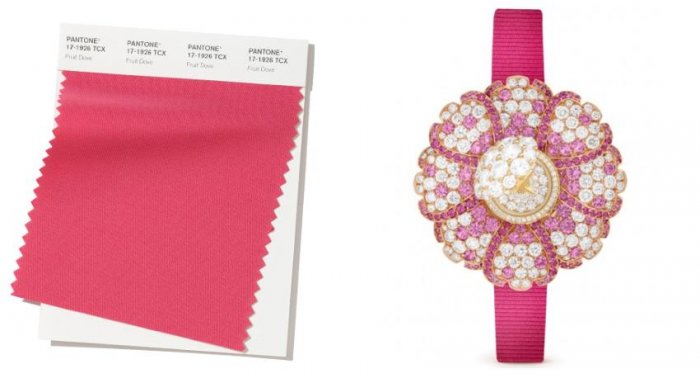 Watch by Van Cleef & Arpels
PANTONE 18-1155 - Sugar Almond
An appetizing mid-tone, Sugar Almond is a sweetened shade of brown.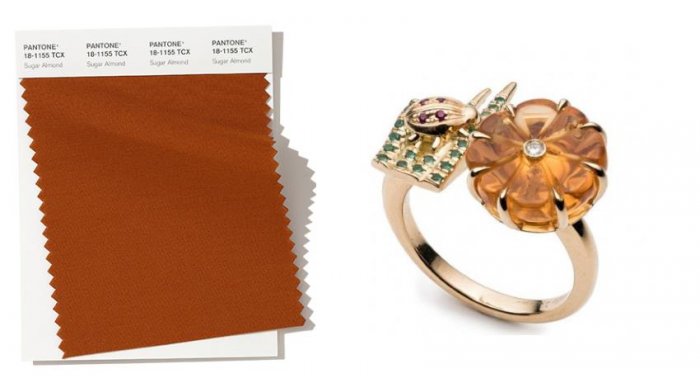 Ring by Brent Neale
PANTONE 15-1150 - Dark Cheddar
Bold and daring, Dark Cheddar is a sharp blend of yellow and orange.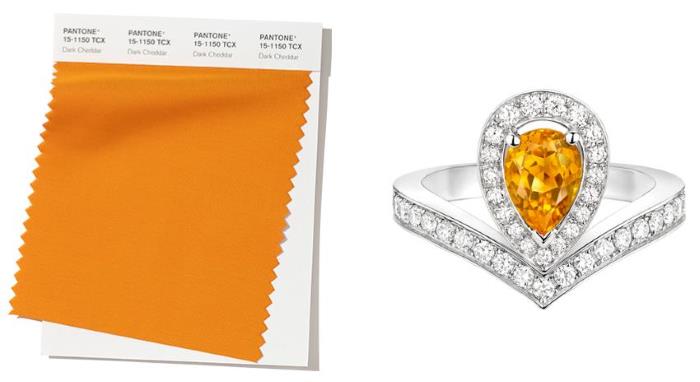 Ring by Chaumet
PANTONE 19-4055 - Galaxy Blue
A thoughtful blue hue, Galaxy Blue is evocative of the greater galaxy.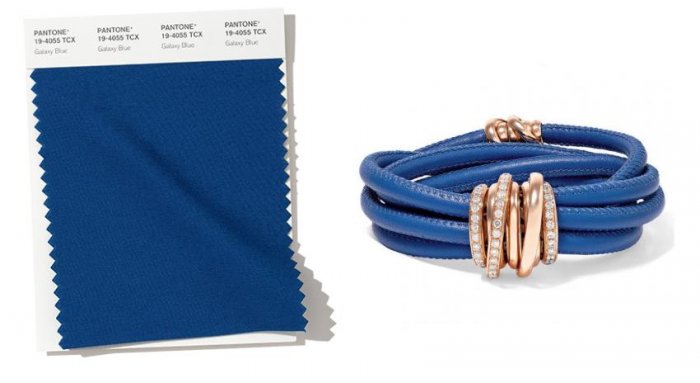 Bracelet by de Grisogono
PANTONE 18-4217 - Bluestone
Bluestone is a color of quiet resolve.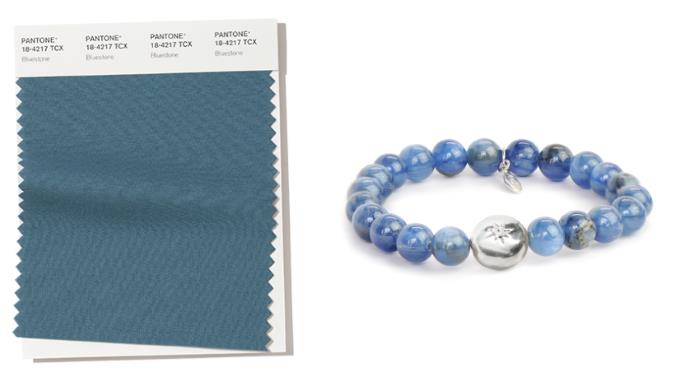 Bracelet by Anzie
PANTONE 16-1358 - Orange Tiger
Orange Tiger imparts a fearless energy.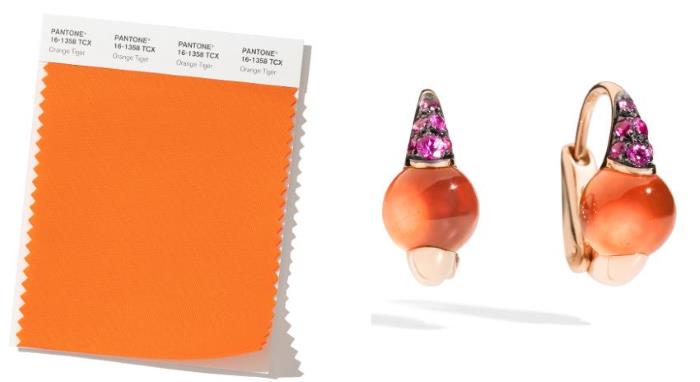 Earrings by Pomellato
PANTONE 19-6050 - Eden
Eden is a stately forest green that plays on tradition.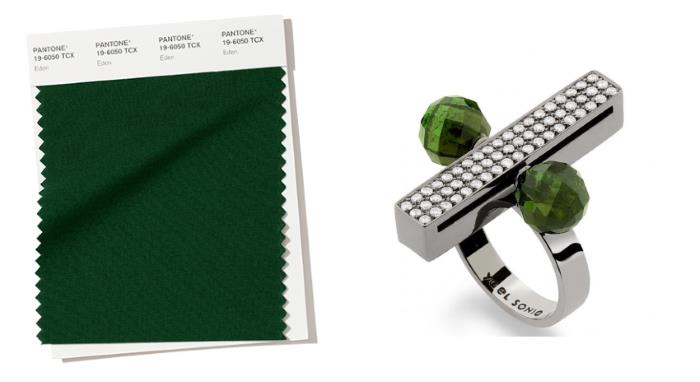 Ring by Yael Sonia
About the Autumn/Winter 2019/2020 Classics:
This season's core shades are strong enough to stand alone or work equally well as a foundation for distinguishing color contrasts.
PANTONE 12-0815 - Vanilla Custard
Vanilla Custard is an understated, smooth and creamy white.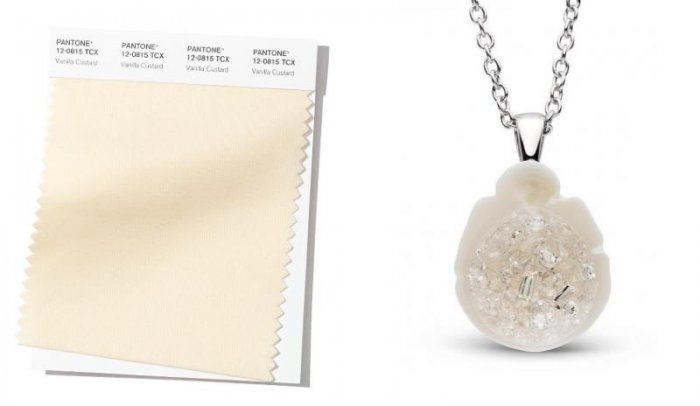 Pendant by Little h
PANTONE 19-3815 - Evening Blue
Confident and classic, a deep blue symbolic of the evening sky.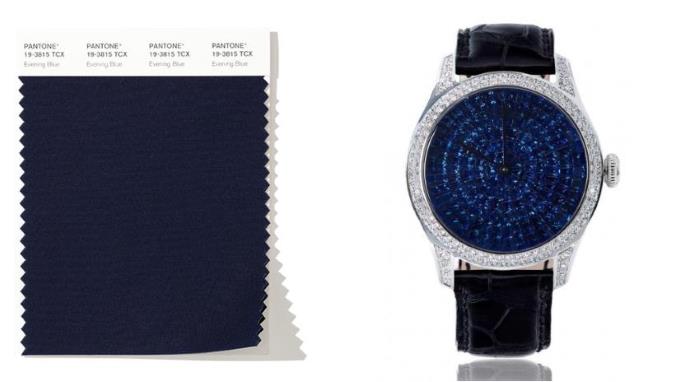 Watch by Stenzhorn
PANTONE 16-0000 - Paloma
An unpretentious, yet at the same time elegant gray, Paloma endures.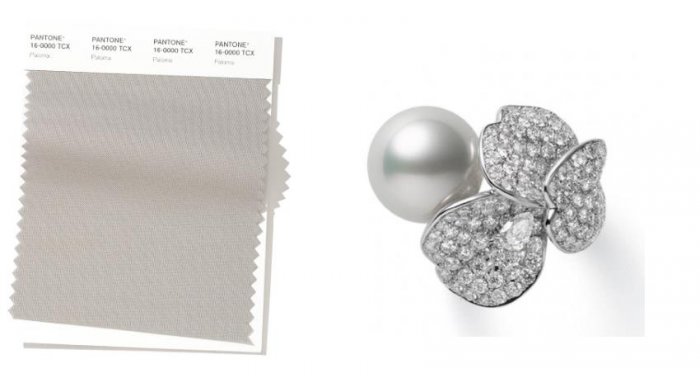 Ring by Mikimoto
PANTONE 17-0530 - Guacamole
A tasteful, nutrient-enriched green, Guacamole establishes a refreshing foundation.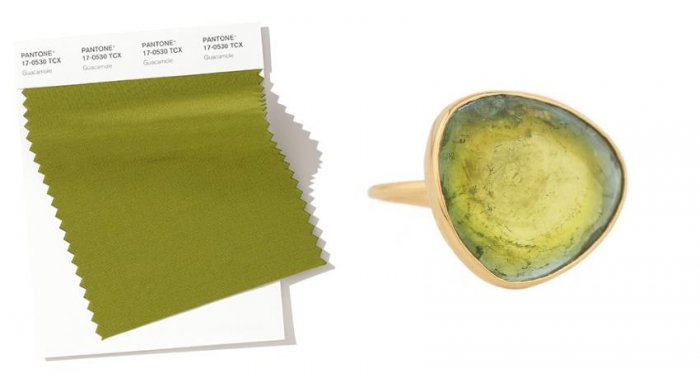 Ring by Celine Daoust